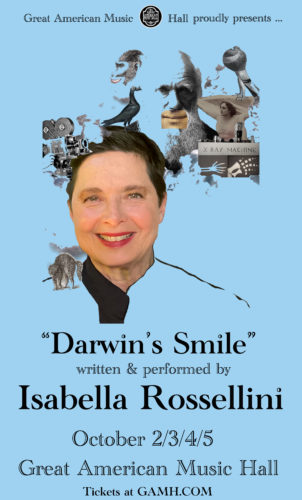 Isabella Rossellini's Darwin's Smile
Event Details
On sale Friday, 3/18 at 10am!
Doors 7pm Show 8:30pm
*This is a FULLY SEATED event*
$80 Gold Seating
$70 Silver Seating
$60 Standard Seating [a small amount of seats may a have partially obstructed view of the stage]
PRESENTATION:
Isabella Rossellini 's new one woman show Darwin's Smile reconciles two worlds that are often at the opposite ends: art and science.
Reading Charles Darwin's book "The Expression of Emotions on Man and Animals" revealed to her that the continuity between human and animals can also be detected in the expression of emotions. 
Isabella explores how empathy, that is at the base of acting, is also necessary for the studies of animal behavior (ethology). 
The show is both a lesson on evolution and acting. In her usual comical tones, she demonstrates how acting could use to understand the mysterious nature of animals and their emotions. With humor and simple, innocent devices she plays on stage dogs, cats, chickens, peacocks, and of course Charles Darwin. 
The show is an opportunity to learn while being entertained and laughing all about the art of acting and complex scientific theories. 
Isabella explains "During the covid lock down I had ample time to reflect about my passions for theater and science. These two interested of mine seemed to me distinct and separate: one satisfied my heart, the other the brain. Until I understood that they can be reconciled. Finally, my heart and my brain are reconciled and harmonious."
CREDITS:
Written by Isabella Rossellini
Directed by Murielle Mayette -Holtz
Costumes and set by Rudy Sabounghi
Light designed by Pascal Noël
Music by Cyril Giroux 
Videos Andy Byers and Rick Gilbert 
Poster designed by Andy Byers 
Isabella Rossellini's assistant Gregorio Franchetti 
Rudy Sabounghi's assistant Julien Soulier
ABOUT ISABELLA ROSSELLINI ( writer -performer) 
Isabella has a master's degree in Animal Behavior and Conservation. She made award-winning series of shorts, Green Porno, Seduce Me and Mammas that offer comical and scientifically insightful studies of animal behaviors. She toured in 50 different cities with a monologue based on her shorts written with Academy Award winner Jean Claude Carriere. Recently she toured her new theatrical show, Link Link Circus that deals with animals' behavior and cognition, as well as brought us the critically acclaimed streaming show "Sex and Consequences" early this year.  Isabella Rossellini grew up in Paris and Rome and moved to move to New York City when she was nineteen years old. She had a very successful modeling career appearing on numerous covers of magazines such as Vogue, Elle, Harper's Bazaar and Vanity Fair. She also worked as an actress appearing in numerous films, directed by extraordinary talents such as Robert Zemeckis, David O. Russell, David Lynch, Robert Wilson, Taylor Hackford, Marjane Satrapi, Guy Maddin. Most notable of her American features include Blue Velvet, Wild at Heart, White Nights, Cousins, Death Becomes Her, Fearless, Big Night and more recently in Joy. Rossellini's interests embrace preservation of her family's extraordinary cinematic heritage, including the films directed by her father, Roberto Rossellini and those featuring her mother, Ingrid Bergman. 
ABOUT MURIEL MAYETTE HOLTZ (director)
Muriel Mayette Holtz is an actress and director.
A former student of Michel Bouquet, Claude Régy and Bernard Dort, she was a professor at the National Conservatory of Dramatic Art between 1996 and 2005. She entered the Comédie-Française as an actress in 1985 after training at the Conservatoire national supérieure d ' Dramatic art, she was named the 477th member in 1988.
She has worked  with Matthias Langhoff, Jacques Lassalle, played the greatest pieces of the repertoire and directed more than forty shows. She became the first woman to lead the company as general administrator, from 2006 to 2014. After a detour through Rome as director of the Villa Medici for three years, she was received at the Academy of Fine Arts in the chair of Maurice Béjart , in May 2017.
Director of the CDN Nice Côte d'Azur since November 2019, she has been back in Nice for the stage, the theater, her profession since she was fourteen and plans to showcase the great texts from the repertoire of Mediterranean Europe. .
Muriel Mayette-Holtz is a member of the Academy of Fine Arts, Knight of the Legion of Honor, Knight of the National Order of Merit, Knight of the Order of Arts and Letters.
ABOUTRUDY  SABOUNGHI ( set and costume designer)
Rudy Sabounghi is a set and costume designer. He works mainly in Europe with theater  directors , choreographers on operas, theatre and dance , mainly in Europe.
In Paris at the Comédie Française with Jacques Lassalle: Fausse Suivante (Marivaux) and Dom Juan (Molière), and  with the filmmaker Arnaud Desplechin, Père (Strinberg) and Angels in America (Kushner) . At the Opéra Garnier in Paris, Hercules (Haendel) with Luc Bondy, and Verklartenacht  (Schönberg) with choreographer Anne-Teresa de Keersmaeker. At the Châtelet Cenerentola (Rossini) and Traviata (Verdi) both with Klaus Michaël Grüber.
At La Scala in Milan Idomeneo (Mozart) for Luc Bondy, at La Fenice in Venice Farnace (Vivaldi), in Rome at the Argentina King Lear (Shakespeare) with Luca Ronconi. In London Cruel & Tender (Crimp) at the Young Vic. In Vienna for the Wiener Festwochen Poppea (Monteverdi) and Macbeth (Verdi) and at the Burgtheater 3 Mal Leben (Reza) and new King Lear's version (Shakespeare) with Luc Bondy. Several years after his first Traviata in Paris he was invited by Deborah Warner to a new project, at Theater an der Wien. 
A beautiful collaboration with Lucinda Childs took shape, first in Geneva with Daphnis et Chloé (Ravel) and then a Soirée Stravinsky and Le Mandarin Merveilleux (Bartok) in Strasbourg. 
In Zurich he worked at the Shauspielhaus The Country (Crimp) and at the opera Boris Godouvov (Moussorgski) 
In Brussels, his collaboration with the choreographer Anne-Teresa de Keersmaeker developed, Mozart's Concerts Arias (creation), Amor Constante (de Mey), Bluebeard's Castle (Bartok), Verklarte Nacht (Schönberg)…
But it is on the stage of the Monte-Carlo Opera, where he grew up, that he works regularly with Jean-Louis Grinda, in January 2022 they will create Turco in Italia (Rossini) with Cécilia Bartoli.
Some productions have come to the United States : Dom-Juan from the Comédie Française and Hercules from the Opéra de Paris have toured at New-York's Brooklyn Academy of Music.
Finally, Rudy Sabounghi regularly teaches at the TNS in Strasbourg and the ENSATT in Lyon.