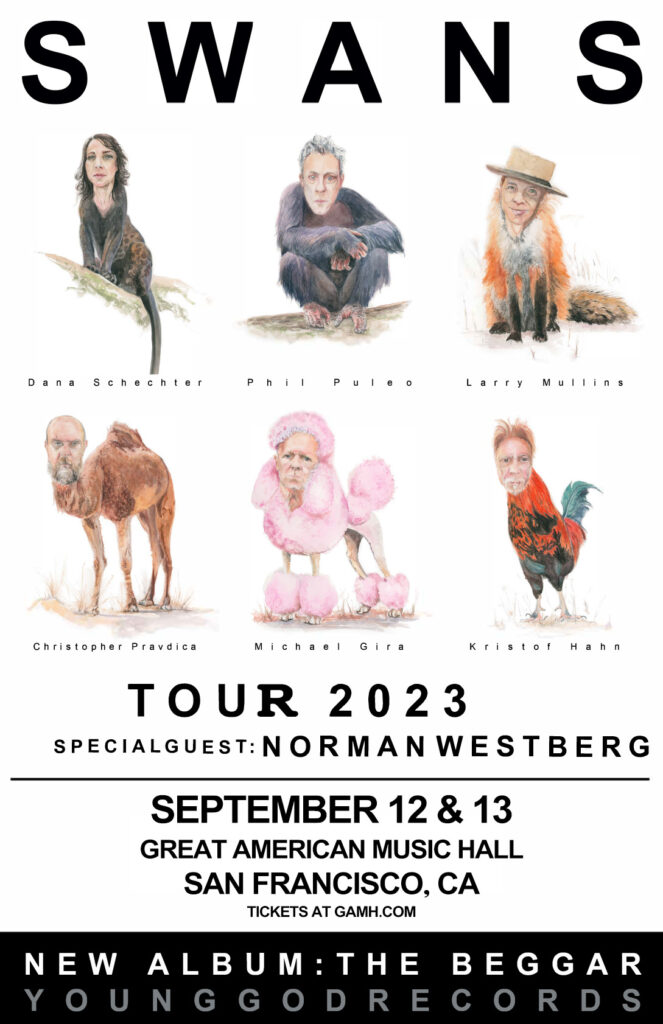 Event Details
On sale Friday, 3/24 at 10am!
$40 ADV | $45 DOOR
Doors 7pm | Show 8pm
SWANS
Below bio from SWANS website:
I started Swans in 1982 in NYC. At the time, I had no musical skills whatsoever, just instinct and a need to make something happen. The music changed constantly over the years, and I'm gratified it reached, and continues to reach, a fair number of people. After 15 years, I decided to end Swans, as the name had become a burden and the associations no longer fit with what I wanted to do at the time. I started Angels of Light in 1999, and continued that through 2009. In 2010 I restarted Swans. The core contributors to Swans from 2010 to 2017 were Michael Gira, Norman Westberg, Kristof Hahn, Phil Puleo, Christopher Pravdica and Thor Harris. In 2017 Paul Wallfisch joined the group after Thor Harris took a sabbatical. In 2018 Swans, as a consistent group of individual contributors, was disbanded. I now continue using the name Swans, gathering disparate personnel for each album and tour. Recent contributors have included: Kristof Hahn, Larry Mullins, Yoyo Rohm, Ben Frost, The Necks, Baby Dee, Anna and Maria von Hausswolff, Jennifer Gira, Dana Schechter, A Hawk and a Hacksaw, Thor Harris, Norman Westberg, Phil Puleo, Christopher Pravdica, Cassis Staudt, and many more. I also run Young God Records.

Dozens of people came and went through the initial 15 years of Swans existence. These are the people that spring immediately to mind: Michael Gira, Norman Westberg, Roli Mossiman, Harry Crosby, Sue Hanel, Jonathan Kane, Algis Kizys, Jarboe, Ted Parsons, Steve Mcallister, Larry Mullins, Virgil Moorefield, Vudi, Joe Goldring, Ronaldo Gonzales, Vinnie Signorelli, Christoph Hahn, Ivan Nahem, Bill Rieflin, Bill Bronson, Phil Puleo, Anton Fier, Jenny Wade, Clinton Steele and more… Jarboe was the longest-lasting Swans contributor of those listed above and contributed more than can be mentioned here. To learn more about her, look her up on the internet.
Norman Westberg
Best known for his work with the seminal outfit, SWANS, Westberg's output beyond that group is sprawling and restless. His name recurs and ripples through many interconnected micro-histories surrounding New York City's music and art scenes. From appearances in film works associated with the Cinema Of Transgression, through to his participation in bands such as The Heroin Sheiks and Five Dollar Priest,Westberg's name is woven deeply in to the fabric of NY, over the past three decades.
A Note from Lawrence English…
"Norman Westberg's guitar playing with SWANS has influenced a generation of musicians across genres. I can personally attest to how his particular approaches to that instrument, in creating both harmony and brute force, have challenged and ultimately influenced my own sonic preoccupations.
What Norman has created with his solo works is an echoing universe of deep texture and harmonic intensity. His solo compositions generate an affecting quality that drives the listener towards reductive transcendence.
His guitar, as a singular source, becomes transformed through a web of outboard processes. He transforms vibrating strings completely,taking a singular gesture and reshapes it through webs of delay,reverb and other treatments. To me, these works echo many of the concerns of American minimalism and sprawl outward towards the work of bands such as Stars Of The Lid. Norman has created a very dense and powerful statement of intent with [his] recordings and I couldn't be more pleased to have some small part in helping to share them"