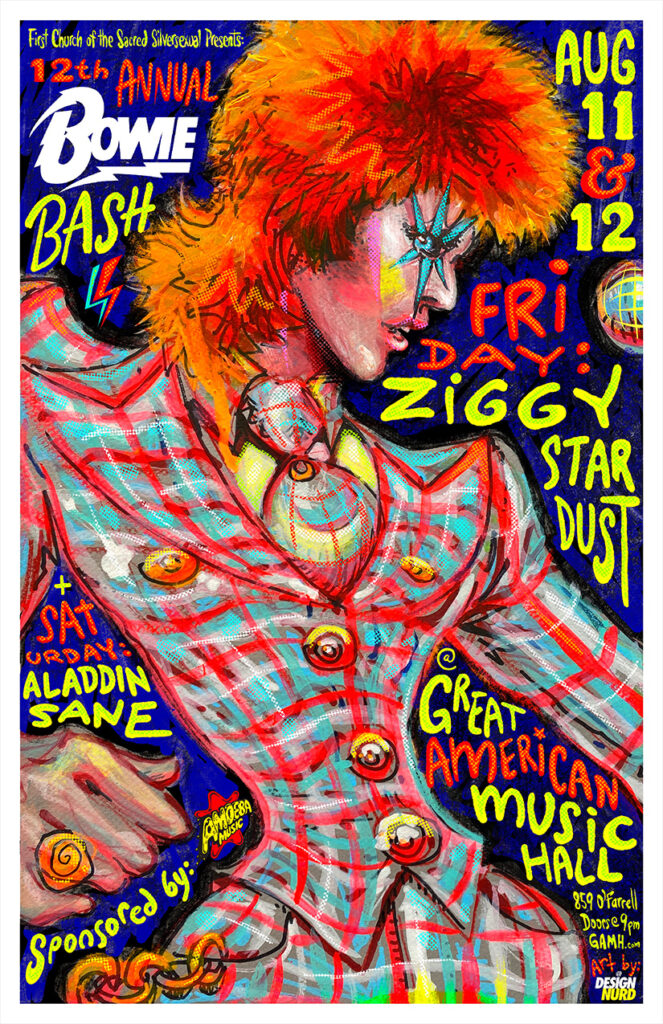 The 12th Annual Bowie Summer Bash!
Event Details
On sale NOW!
$25 ADV | $29 DOOR
Limited  "Early Bird" tickets $20
Buy 2-Day Passes HERE
Doors 8:30pm | Show 10pm
August 11th – The Rise and Fall of Ziggy Stardust and the Spiders from Mars
August 12th – Aladdin Sane (50th Anniversary)
The First Church of the Sacred Silversexual  
The First Church of the Sacred Silversexual is the world's only Worship Band devoted to the teachings of David Bowie.  This "Church of Bowie" has held services in San Francisco since 2011, with yearly Bowie Birthday Bashes going back to 2012.  A 2013 SF Bay Guardian Best of the Bay Editors Pick, the Church has taken their Cover Cult on the road, spreading the Good News that Bowie Loves You to Los Angeles, Portland, Seattle and New Orleans.
The First Church is composed of a bevy of incredibly talented musicians from local acts like Midtown Social, Kat Robichaud and Scary Little Friends.  This musical powerhouse is joined onstage by the finest in drag and burlesque performers for an over-the-top Sparkly Spectacle.
This summer, the Silversexuals will be celebrating the 50th Anniversary of Aladdin Sane by performing the seminal album front-to-back, with an encore set that draws from the greatest hits and b-sides of Bowie's unparalleled career at the legendary Great American Music Hall in San Francisco.